Horse owners participating in the final of this year`s BOV Tazza l-Kbira drew the starting numbers for their horses during a press conference held at the Malta Racing Club.
The 12 finalists were determined from 72 top category trotters in Malta following a series of heats and two semi finals. The BOV Tazza l-Kbira is the most prestigious race in the local horse racing calendar and to keep with tradition it is raced of the 2640m distance. The prestige of this historic race goes beyond the fact that it has the biggest prize pot of all the Malta Racing Club races.
Edwin Borg, Chairman of the Malta Racing Club together with Charles Azzopardi Executive PR and Marketing at Bank of Valletta assisted the drawing of the starting numbers which was done by the owners themselves.
MRC Chairman acknowledged the importance of this draw stating that this sometimes determined one`s chances especially if a horse is adamant on going to the front or does not like being boxed in. Whilst anyone of the 12 horses can be the winner, the sure thing is that this year it will be a new horse that will put its name on the prestigious trophy.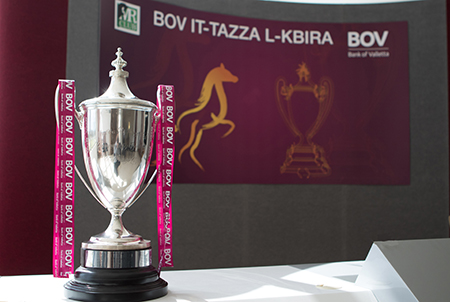 The passion shown by the owners, drivers and all those involved in this sporting discipline is exemplary and we are glad to again be supporting this prestigious event said Mr Azzopardi. Sports is an integral part of Bank of Valletta`s active participation in the community in which we operate and we take the opportunity to wish all the participants all the best for the final of the BOV Tazza l-Kbira.
The final of the BOV Tazza l-Kbira will be held on Sunday 28th April and as usual a special entertainment programme is being prepared.
1. UPMAN
2. TALLIEN
3. UP AND GO
4. SANDSJONS REVENUE
5. AXEL TILLY
6. UNO DANCER
7. ULTRA DE VINDECY
8. UN CARLESS BLUE
9. UN AMOUR DU PONT
10. I WON`T DANCE
11. UTTINGEOIS
12. PAPARAZZI