Noel Baldacchino will have the honour to be the first ever Maltese Participant in the World Driving Championships. This year, this even will be held in Canada.
What is the World Driving Championship?
The World Driving Championship is held every two years in conjunction with the World Trotting Conference. The International Trotting Association uses this conference as an opportunity for countries to meet and discuss matters of importance in the sport of harness racing internationally. This year`s World Trotting Conference has Symposium sessions that will focus on four major subjects: 1.Racing and Wagering, 2.Breeding, 3.Equine Welfare and Integrity, 4.Marketing.
Among those confirmed to attend and speak during the conference are; Hall of Famer John Campbell, PEI native Anthony MacDonald, Melissa Keith,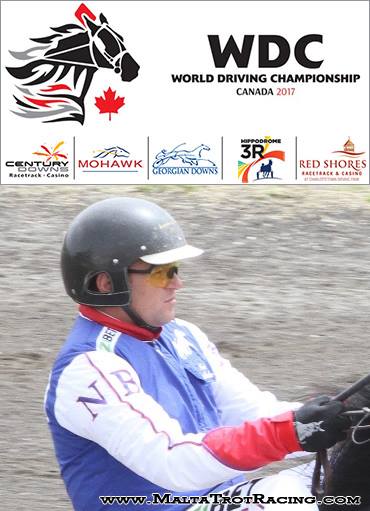 Atlantic Post Calls journalist from Nova Scotia, who has covered harness racing for a decade, and a number of top harness racing executives from around the globe such as Jean Major (Canada), Ed Rennell (New Zealand), Andrew Kelly (Australia), Russell Williams (USA), Johan Lindberg (Sweden) and Guillaume Maupas (France). This Conference is being held between the 16th and 17th August at Red Shores where the final leg of the World Trotting Championship will be held on the 18th August 2017.
This Championship will be held over 5 legs between the 12 and 18th August 2017 including around 22 races.
> First Leg: Saturday, 12th August - Century Downs (11/16 mile) in Calgary, Alberta
> Second Leg: Monday, 14th August - Mohawk Racetrack (7/8 mile) in Campbellville, Ontario
> Third Leg: Tuesday, 15th August - Georgian Downs (5/8 mile) in Innisfil, Ontario
> Fouth Leg: Wednesday, 16th August - Hippodrome 3R (1/2 mile) in Trois Rivieres, Quebec
> Fifth and final Leg: Friday, 18th August - Red Shores Racetrack and Casino at CDP (1/2 mile) in Charlottetown, Prince Edward Island
The following is the list of participants in this Championship:
1. Marcus Miller (United States)
2. James MacDonald (Canada)
3. Shane Graham (Australia)
4. Mark Purdon (New Zealand)
5. Dexter Dunn (ITA/New Zealand)
6. Gerhard Mayr (Austria)
7. Bjorn Goop (Sweden)
8. Mika Forss (Finland)
9. Eirik Hoitomt (Norway)
10. Rik Depuydt (Belgium)
11. Noel Baldacchino (Malta)
We will be giving you live updates on the even on our Facebook Page.